Discover more from Autumn Diaries
One neurodivergent woman's journey to losing 100 lbs in her sixties.
Where to even start when you've been silent for more than four months? Well, let's start by talking about some of what's been going on.
To begin with, Substack really overwhelmed me earlier this year.
It's a funny thing really but the more features Substack introduced, and the more people moved their blogs and newsletters here, the more inundated I felt on this platform that I cherish.
It all started with the introduction of Notes, which despite its much better design felt too much like Twitter to me, i.e. overstimulating and overwhelming. I was basically hit with content overload, which despite most of it being excellent and attention worthy content (so many great writers on Substack!) just added to the piles on my already full plate. It's like having the most delicious dessert trolley come rolling towards you after an enduring feast of copious, tasty food - I knew if I took one more bite I would start to feel sick.
And so I went quiet.
However, this is only one side of the coin.
The truth is also that this has been both a wonderful and a hard year.
Wonderful because I got to spend time with my family and closest friends who visited from Europe. Wonderful because this house is starting to feel like a real home, one that I can see myself living in for a long time to come.
Hard because in addition to the constant stream of (beloved and welcome) visitors we had contractors working around the house for months, fixing up and painting the exterior, building a roof over our patio, and replacing all the landscaping around the house. All good things for sure but I could feel my ever fluctuating energy reserves scraping the bottom of the barrel before the end of summer.
The hardest part, however, has been regaining all the weight I lost in 2020. It's a story as old as modern day diet culture, yet here we are. The gain means that I carry about 100 lbs in excess weight which has been tough on my aging body, to the point where I was exhausted and achy for much of this beautiful summer.
My resistance to it all has been high. I really, really did not want to be back here. And honestly, it's not even just the weight, more than anything I mourn the loss of my self whenever I get to this place. The loss of my sense of presence, resilience and attention. It's like there is an on/off switch in my head and when it's off I am lost in the darkness of my fears and anxieties. When I finally find my way back to the switch and turn it on again, I am comforted by the light but then I look up and see a big mountain ahead of me and the familiar sense of dread sets in.
That mountain has always been big yet as I am sitting here, looking at it with weary eyes, I realize that with each attempt to climb it I have at least learned something. The connection between ADHD and obesity is probably the biggest piece of the puzzle I have found this year, perhaps even ever. Just like when I discovered that I am a Human Design Projector, the more I learn about ADHD the more sense I make of my life and how, between everything, I came to be an obese woman.
Obesity is inherently personal yet something that we cannot hide, everyone can 'see' it. People who've never been obese love to have strong opinions about it, while those who are of have been obese, struggle to survive inside their bodies, minds and a diet-obsessed society and food industry.
This year I am learning that before anything there has to be surrender. And surrender sometimes looks like canceling travel or social plans, prioritizing calm and rest, and taking a break from personal blogging.
I am also learning that it's ok if one part of my otherwise beautiful life is hard and requires extra care. In the past I always pushed through but this year I took more care to listen to my body and accept where it is. I still get a little jealous when I see others of my generation walk and run with ease but I am, slowly, coming to a kind of peace with where I am with my weight, physical limitations, and age. This is my normal, this is my current autumn season.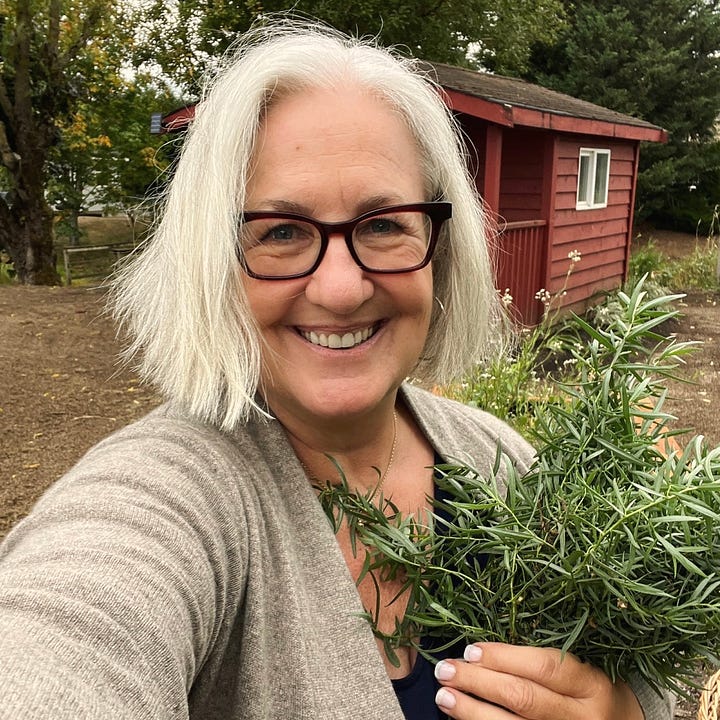 I do still want to lose a good amount of weight, even half of the 100 lbs would be so helpful, but am taking a more gentle, calm approach to it all. Knowing what I know now about how ADHD affects my ability to plan, shop for and cook meals, I am taking small steps towards making it easier. One of the most helpful tips I've seen is to be one step ahead of the things that otherwise fall through the ADHD gap. For me that's things like:
Filling up my water bottle at night so it's ready the next morning.

Preparing my breakfast first thing in the morning so it's ready to be cooked or assembled by the time I am hungry. I usually eat around 10 am.

Chop veggies and prepare food for dinner at lunch time so everything is ready when it's time to cook in the evening.

Always cook for leftovers. I love leftovers so much.

Keep a running shopping list on my phone and before I go to the store think about what else I really need and add that to the list. When I have a list I buy less stuff impulsively. Bonus: order the items in the order of the shop so there is less running back and forth, less points of distraction.

I tend to get quite hyperfocused at work and have a habit of powering through no matter what. Which is a typical trait of people with ADHD. Over the last few weeks I had some big projects I was working on and tried a different approach: whenever I felt my energy dropping significantly, as will happen during hyperfocus, I stop and take a break. And during that break is often when I, for instance, prepare veggies etc. for dinner. My office is right next to the kitchen so this works really well! Plus, the break helps with my focus so my work benefits, too.
October and November are busy months in my business so I am not sure how much I'll be writing on here. Having said that, I'd actually love to get back into the routine of writing every Sunday, like I used to, so maybe this is the first Sunday post of many!
If you are still here and still reading, thank you! I missed you guys.
Have a calm and lovely week,
Kerstin xo