Discover more from Autumn Diaries
Midlife musings from the road less travelled.
Imperfect consistency
Sunday Scales: -2.0 lbs | Total loss: 41.4 lbs
Last week I received this DM from one of my Instagram followers: "I've been following your posts and it is inspiring to see you continuing your journey despite setbacks." Thank you! I really appreciated this message and it reminded me of something that a friend once said: "Failing is pretty much guaranteed, the trick lies in failing fast."
So true, isn't it? Learning to 'fail' on this journey and turning things around quickly when I veered off course has made all the difference. That includes my most recent 'fail' – eight months of last suppering while also investigating other options before getting back on track with the plan that I know works for me. In the past this took me 2-3 years! By the way, I put the word 'fail' in quotation marks because language matters and 'fail' is one of those words we often use to punish ourselves with. Let's not do that. Let's just take it at face value and not judge ourselves with it.
Allowing for 'failure' without judging and 'failing fast' is all part of learning to be imperfectly consistent. The strive for perfection, the all or nothing thinking, the feeling good or bad – are all the legacy of diet culture. It is not easy to break this legacy but I am working on it!
Here is a good example.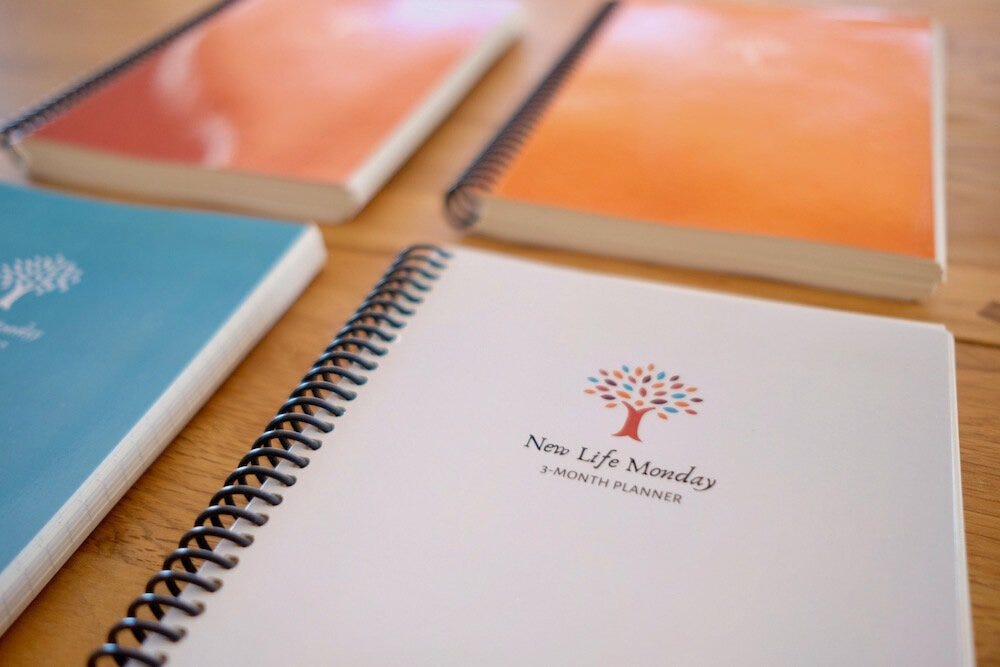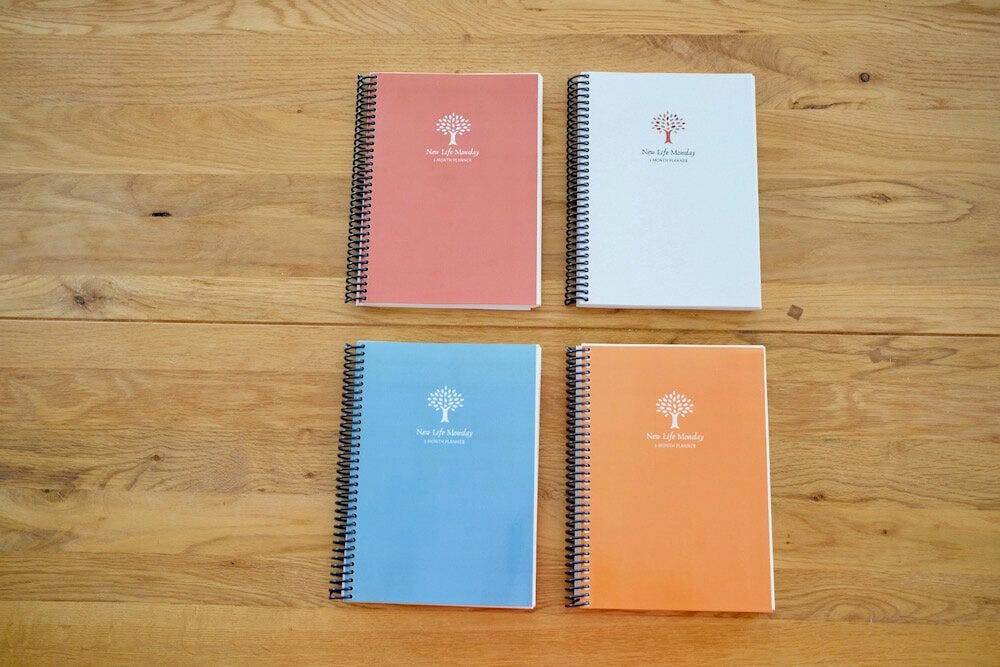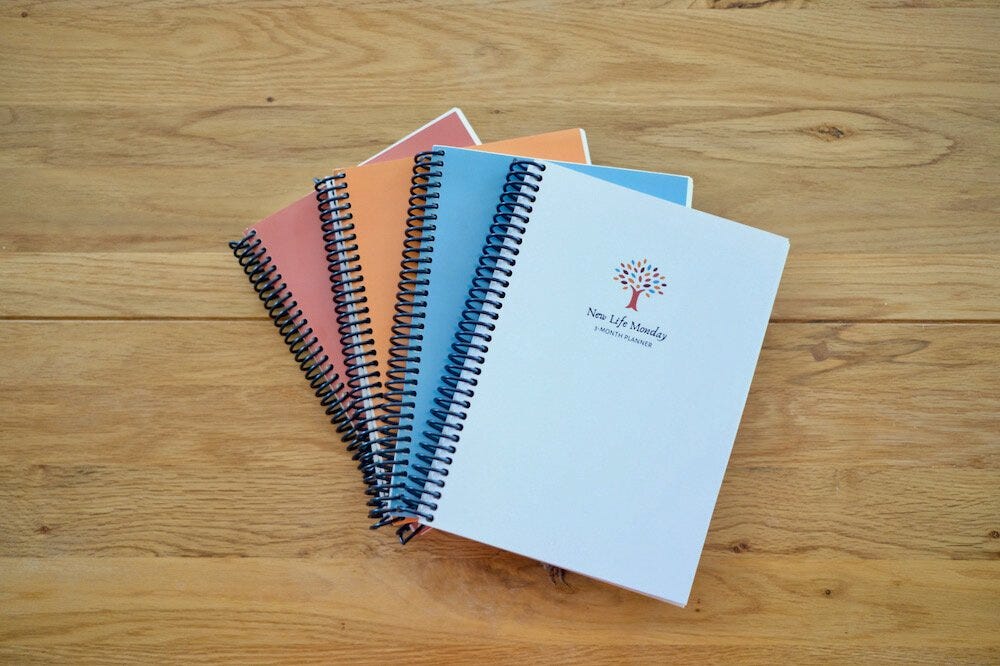 Because I am a bit of a planner nerd I designed my own weight loss planner and companion journal. I played around with this for a while and ordered various versions from lulu.com. Eventually I arrived at what I thought would be the final version – but then I changed the name from New Life Monday to "Write More. Weigh Less." To be honest, one reason why I prolonged my last-suppering phase was that I wanted to wait for my planner so that I could start properly with the planner. Which I did. But then I changed the name and also some of the planning and reflection charts inside. It takes about two weeks to get the planner but I am also already two weeks in with the planner that now has the wrong name and some wrong charts. I knew I didn't want to start a new one on day 38 and discard the first 38 days. I also considered transferring the first 38 days to the new planner but, you know, even for me a bit too OCD! And yes, I totally overthink this kind of stuff! It's a combination of 'perfectionism' diet mentality and my own (German?) desire for order.
Here is the thing: I feel quite strongly that I want my planner to be 'whole' and document my journey from day 1 of this reboot. It's very much my companion and it's not about being perfect at all. I get messy in my planners, I add stickers and photos, it's a working document that bears beautiful witness to my journey.
So what do I do?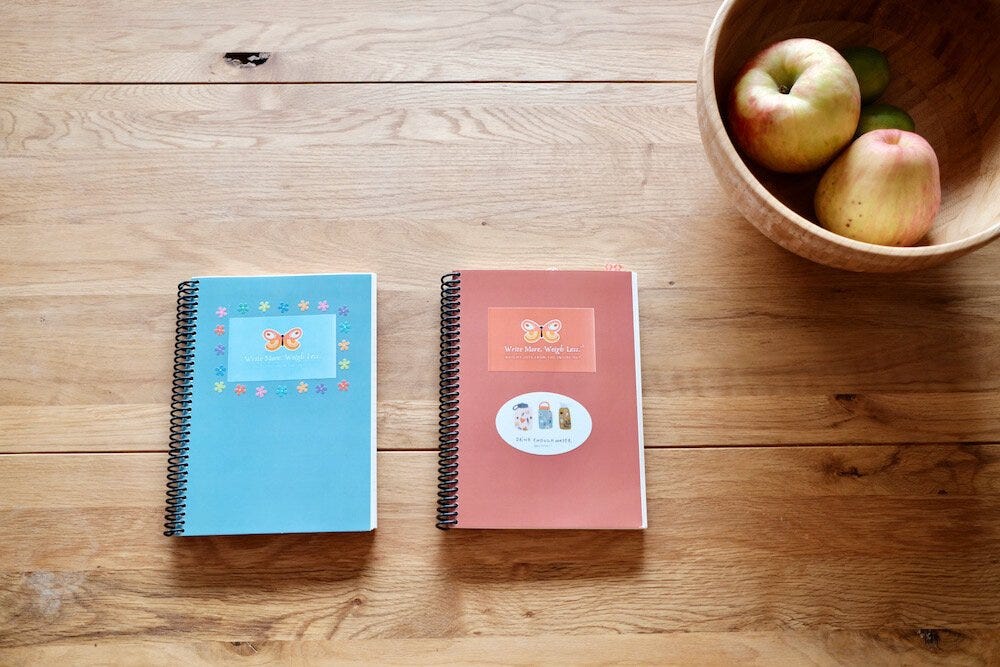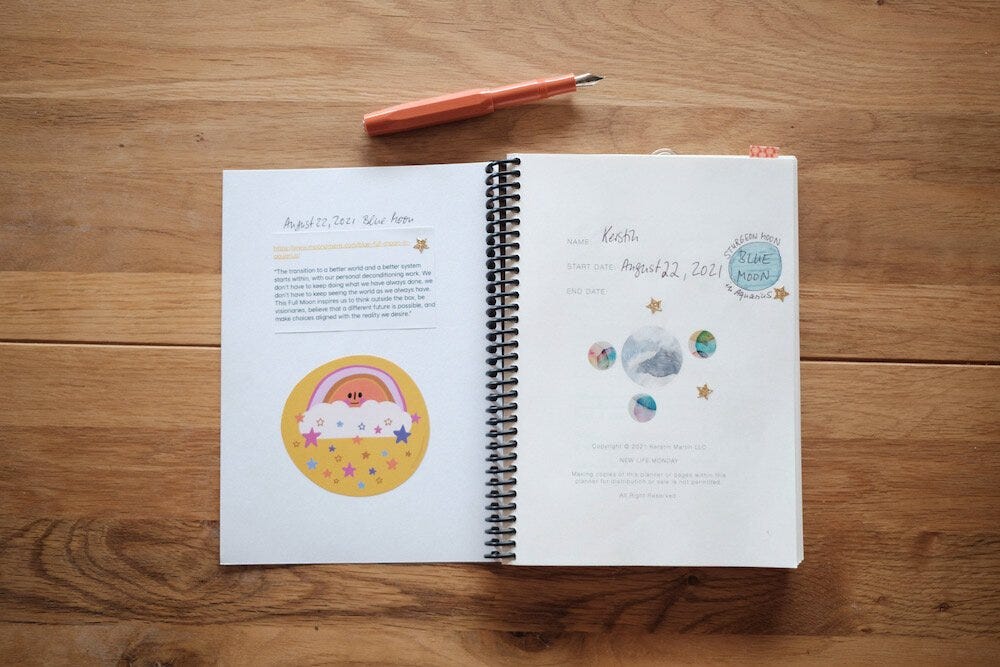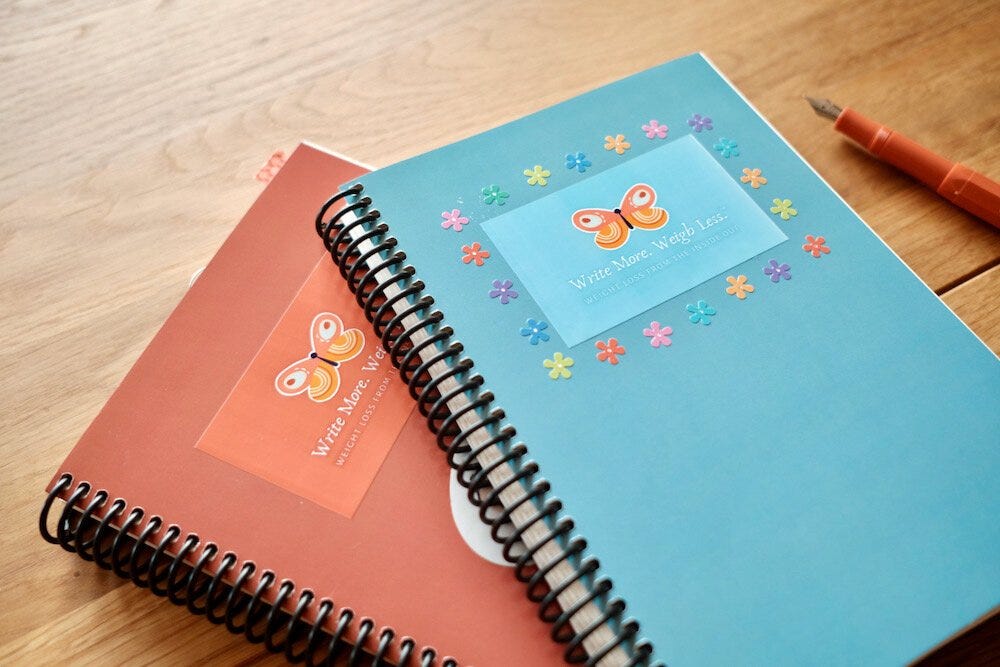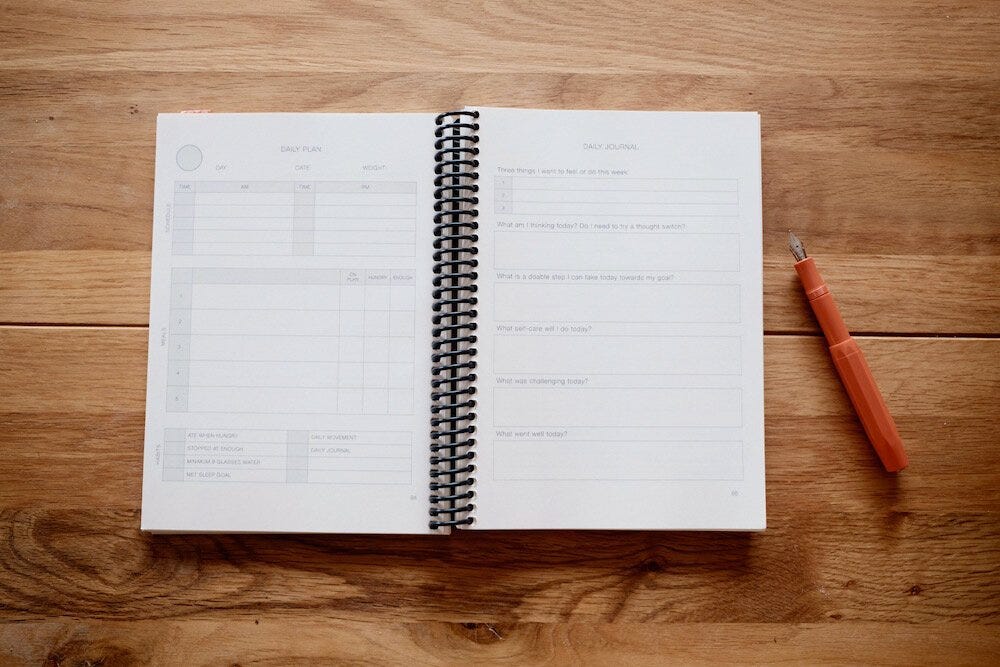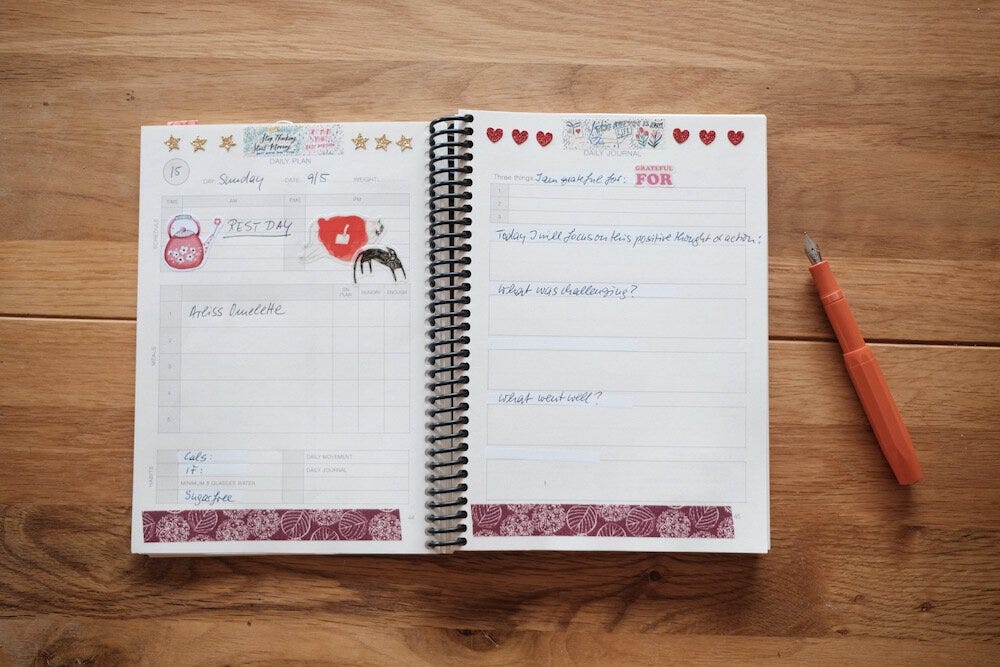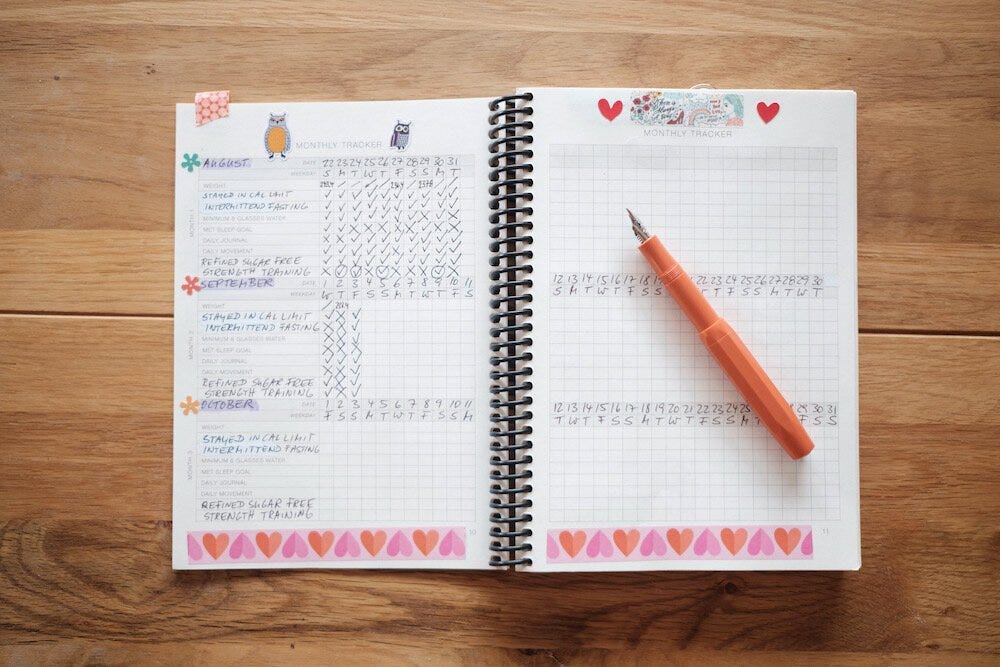 (Sorry, the photos are a bit blurry, I'll take better ones soon.)
Well, I continue using what I have since I already started it. I printed stickers with the new name for the covers and used white-out to overwrite the chart titles that have changed. In three months I will be rewarded with a squeaky clean new 3-month planner that has the correct name and charts. Once I made the decision to be imperfectly consistent I felt lighter and aligned with my path.
As my weight loss coach Sean always says:
The content is not as important as the consistency of the action.
Have a bright and beautiful week ahead ☀️