Discover more from Autumn Diaries
Midlife musings from the road less travelled.
Happy New Year 2022
Happy New Year, my friends!
I hope you had a nice Christmas and good start to 2022. We are all ready for a better year, right? Our's started with snow! We actually had a white Christmas which is unusual here in the Pacific Northwest. The snow stayed with us for more than a week and it's been very cold but beautiful. I even managed to go walking in it a few times. Which is amazing given my dodgy ankle but my trusted special trainers worked great in the snow!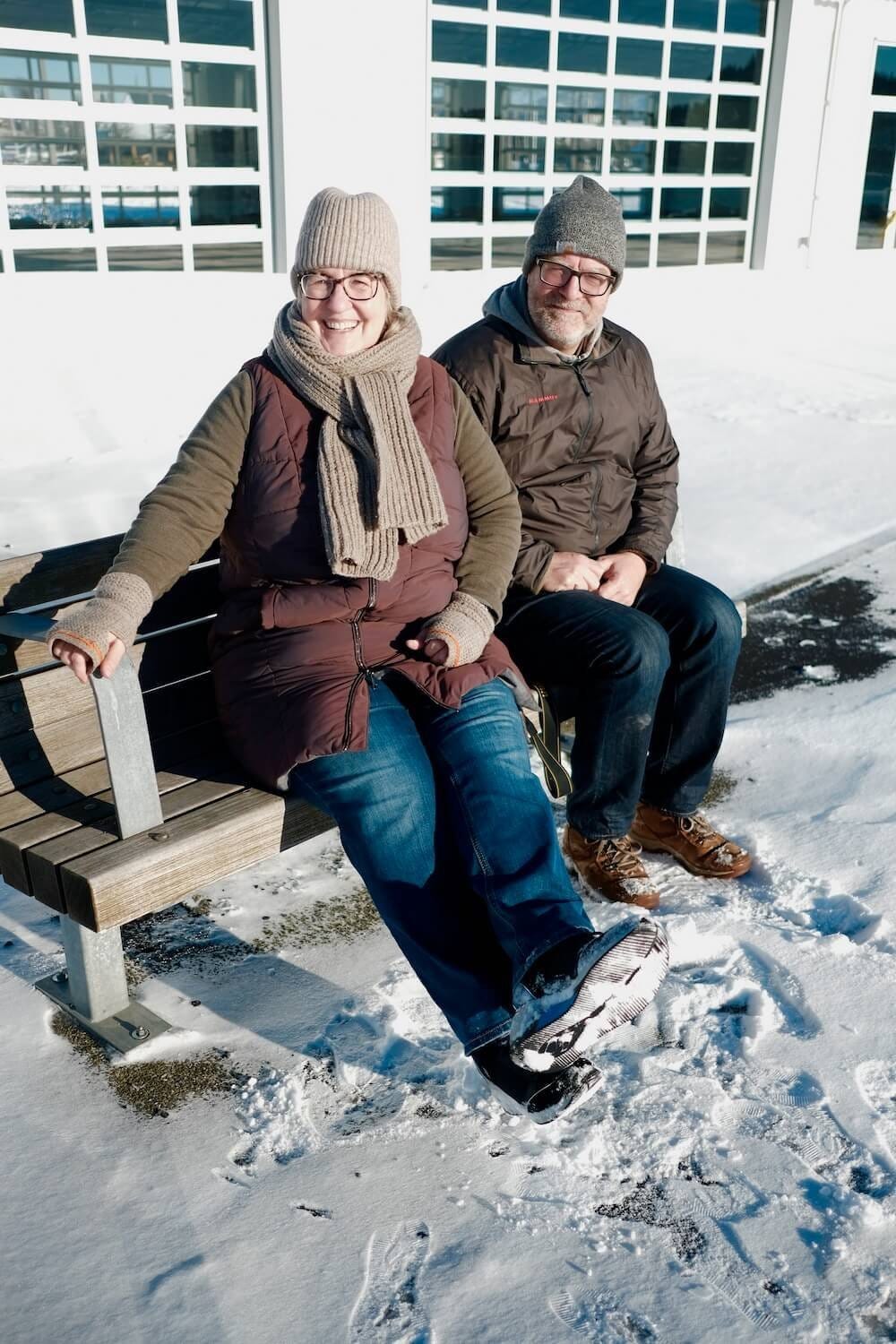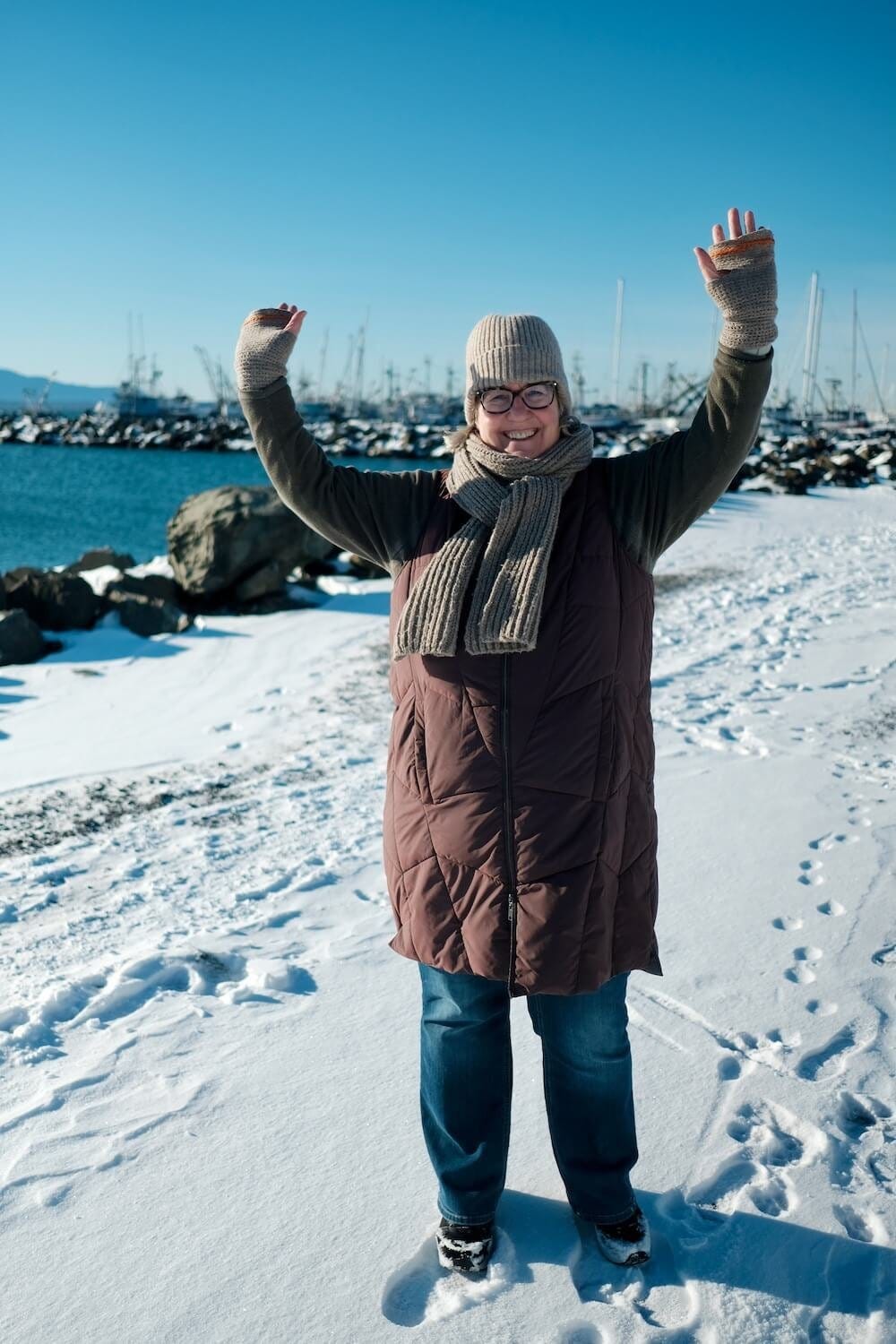 As you know from my previous post the last quarter of 2021 was tough and I regained a lot of weight. While much of it was down to a flare-up in my anxieties this is also a pattern I am observing: in the winter I want to cocoon with comfort food, which in itself is normal and fine, but I always end up overeating a lot because in my mind January and dieting (scarcity!) are just around the corner. It is so hard for me to shake that deeply embedded last-supper mentality.
Alas. I am ready to recommit to my weight loss and health journey. My journals are ready and it feels so good to get into a writing and tracking routine again. I am no longer counting calories because I want to lose weight the way I want to live, calorie counting does not fit in with that. Instead I am focusing on building habits that help me eat less and that I want to incorporate for the long term:
Drinking plenty of water every day

Getting my five portions of fruit & veg

16:8 intermittent fasting

Daily walking

Strength training
I am also comitting to quitting sugar for 2022. Two years ago I first experimented with quitting refined sugar for four weeks and ended up abstaining from it for six months. It felt so good in my mind and body but then winter and Christmas came and with those my sugar addiction kicked back in. I tried moderating it but that's been really hard because sweets are my top comfort foods that calm my anxieties. Ultimately it's easier for me to just cut it out altogether, then there are no crazy-making discussions about it in my head. Do I want to live without refined sugar forever? I don't know. Ideally I want to be able to enjoy occasional sugary treats but I am not there yet. In the meantime my body and mind need a break from the white stuff and this time round I am experimenting with a 12-month commitment. The first week is always the hardest but day 1, which was yesterday, is in the bag!
I am so happy to be getting back into my journaling habit! I did not abandon it completely over the holidays but I am starting with a fresh planner and companion journal for 2022. Because people often ask me about these planners I decided to make them available for purchase via lulu.com, an on-demand printing service that ships worldwide. Click here to learn more.
I love using washi tape and stickers in my journals, it's quite meditative to prepare my pages this way. Below are some screenshots, click on the arrows and scroll through to see them all. Many people prefer to plan and journal in the mornings but I am a night owl and enjoy it in the evenings. I often light a candle, put on a piano playlist and drink a cup of soothing herbal tea, it's very cozy and a great way to decompress from the day and plan for the day ahead.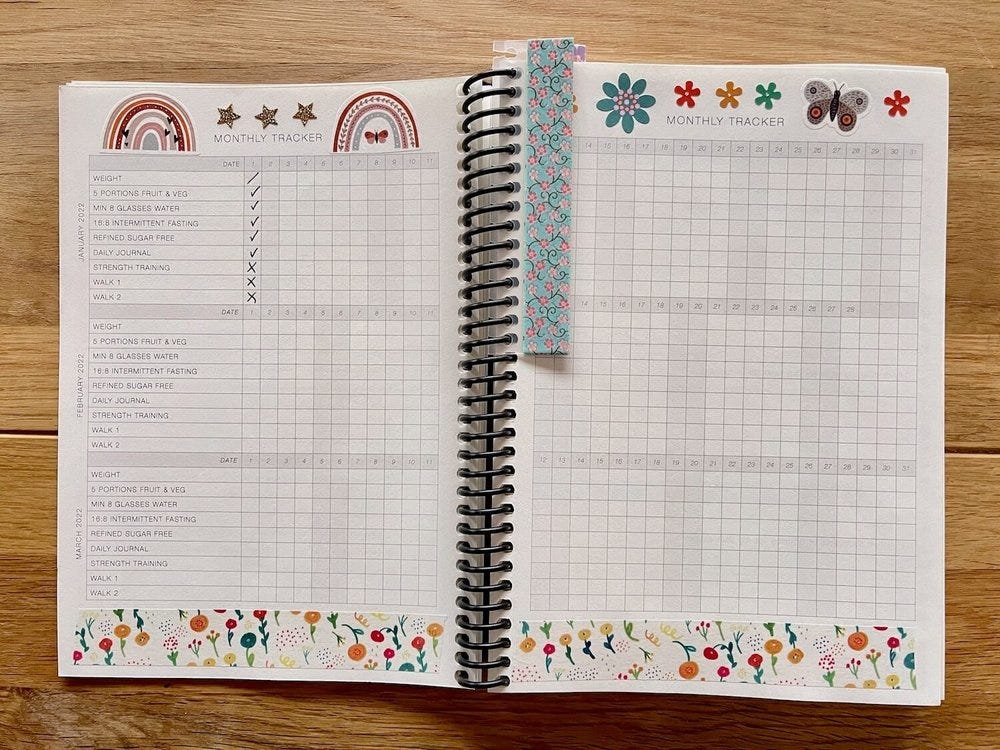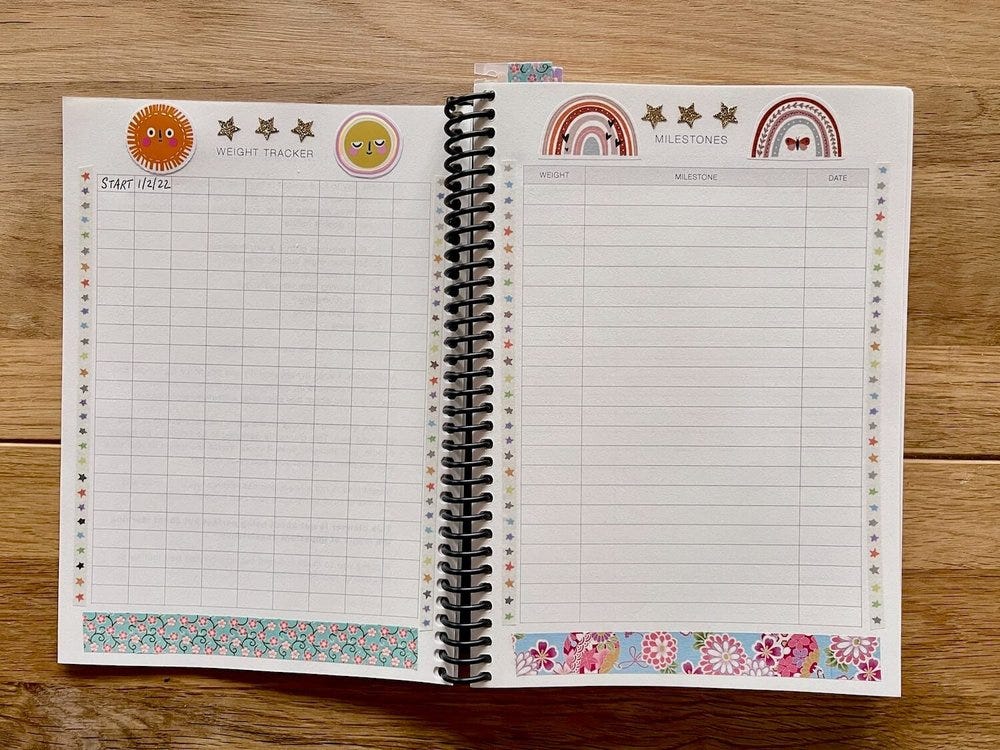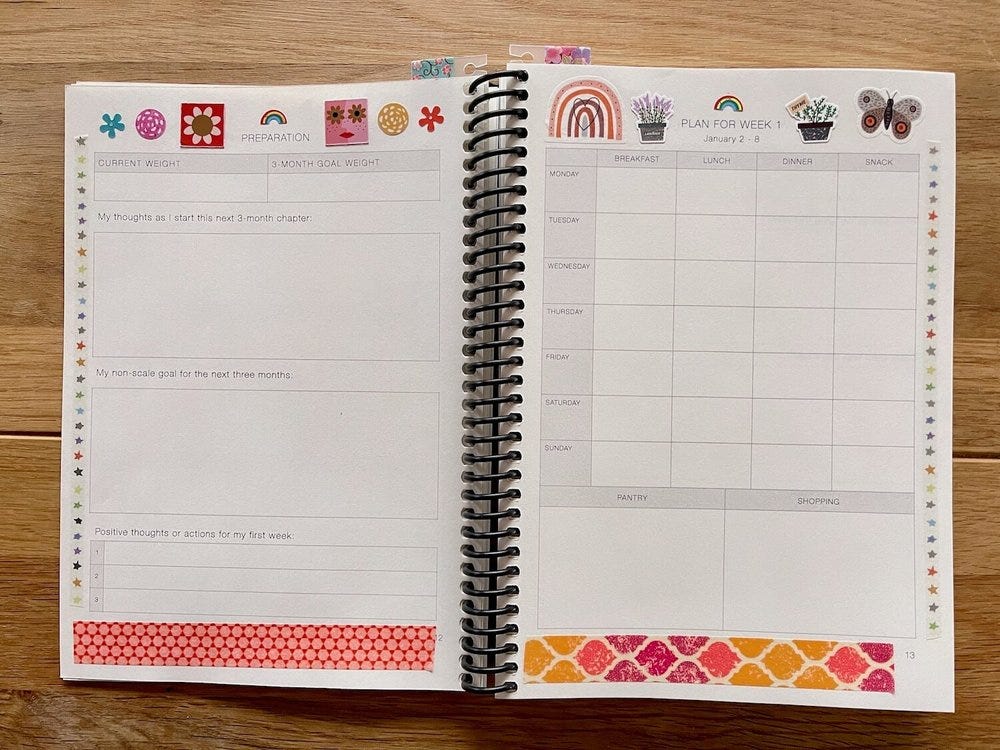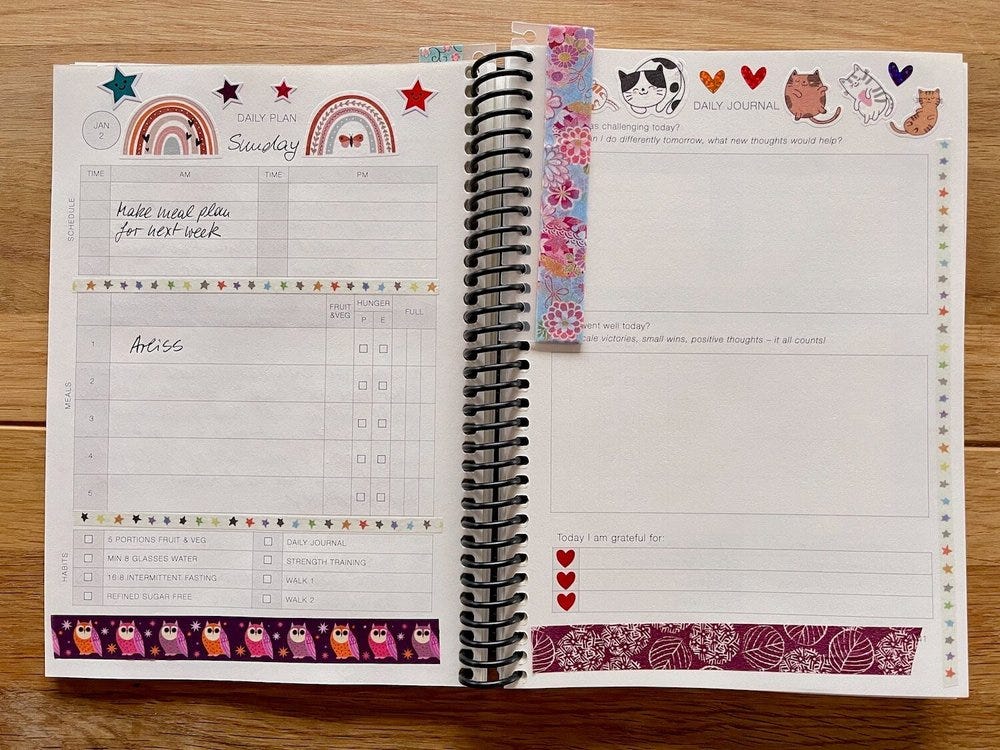 Tomorrow we bring my brother to the airport in Seattle, I miss him already! We didn't do anything too exciting while he was here (because, pandemic) but it was lovely to just hang out, enjoy a cozy Christmas, watch movies and go for an epic walk by the sea in a snow storm! He is coming back with my nephews in the summer so that's something to look forward to.
On Tuesday it's back to work and unlike when I was a corporate employee I am actually looking forward to it! My business had a really good year and I am excited about the year ahead.
Have a lovely first week of 2022!
Kerstin xo